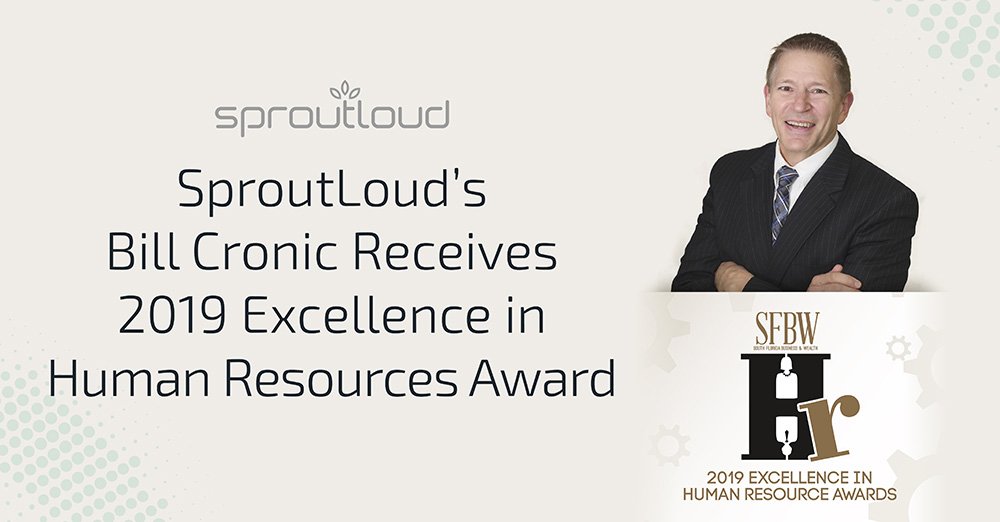 SproutLoud's Bill Cronic Receives 2019 Excellence in HR Award
SUNRISE, Fla., April 2, 2019 – Bill Cronic, SproutLoud's Vice President for People and Organizational Development, was recognized as one of South Florida's top leaders in Human Resources. Cronic received the 2019 South Florida Business & Wealth (SFBW) Excellence in Human Resources Award, which honors distinguished HR professionals who build and nurture talent in their organizations and foster the kind of leadership it takes for their companies to be industry leaders.
"It's truly an honor and quite humbling to receive this recognition," said Cronic, who is fond of the well-known Albert Einstein quote, "When we stop learning, we start dying." At SproutLoud, Cronic's role places a strong emphasis on learning and professional development.  "Receiving this reward is truly a reflection on just how exciting it is for me to work with such a talented, passionate and hard-working group of people at SproutLoud."
"SproutLoud is a company with very well-educated, highly trained employees with clear expectations for themselves and the company, and Bill's valuable experience in training, development and coaching helps our team members meet and exceed their goals," said SproutLoud CFO David Spinola. "He understands that you don't build a culture from scratch. You build effective ways to ensure you're hiring the right people. Then, you invest the time to train and develop leadership, coaching and management skills — not only among current leadership but also in up-and-coming managers. Bill's very effective at that. And he's also focused on engaging all of our team members by making the workplace an enjoyable, day-to-day experience for everyone."
Cronic has more than 15 years of experience in the area of Performance, Talent Management, Staff Development and Human Resources with companies such as Liquidity Services and GEICO Auto Insurance. He also has a strong background in operations. Originally from a small town in Georgia, Cronic earned his B.A. in both Psychology and Religion from Emory University in Atlanta. After doing some graduate studies in Israel, he earned his Master of Divinity degree from Lexington Theological Seminary in Kentucky and became an ordained minister. Cronic said his experience as an ordained minister has contributed greatly to his work in corporate HR.
ABOUT SPROUTLOUD
SproutLoud is a leading SaaS-based Through-Channel Marketing Automation platform, designed to increase Brand sales through partners in local markets. SproutLoud's advanced marketing automation technology simplifies every aspect of Distributed Marketing and delivers comprehensive analytics on tens of millions of touchpoints for major, category-leading Brands. SproutLoud gives Brands unparalleled visibility on ROI for individual tactics, campaigns, partner engagement and platform usage. With SproutLoud, Brands have the advantage of responding rapidly to changing market conditions in real time with data-driven decisions.
Media inquiries:
Contact SproutLoud Content Marketing Manager Elizabeth Vempala at [email protected]
Sales inquiries:
Contact [email protected] or call 954-476-6211 x3