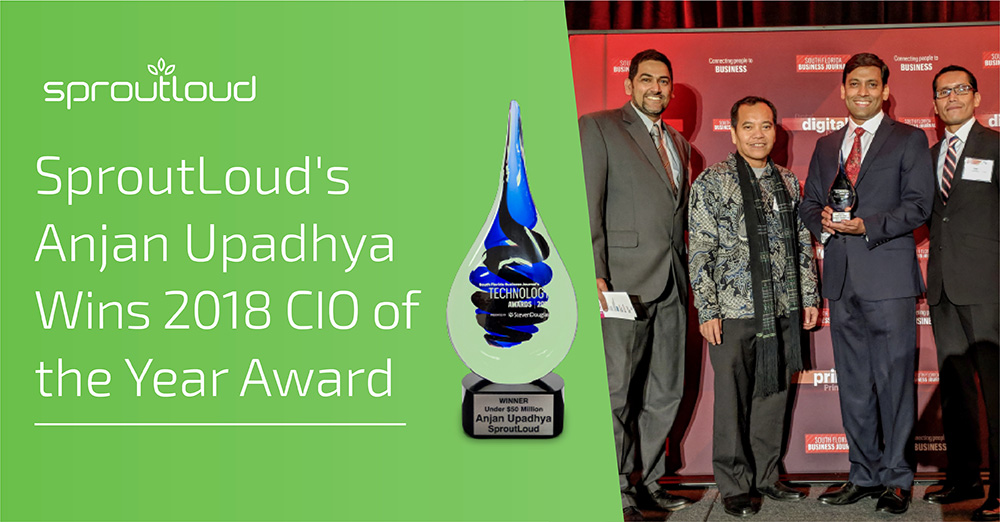 SproutLoud's Anjan Upadhya Wins 2018 CIO of the Year
SproutLoud's Chief Technology Officer Anjan Upadhya was named 2018 CIO of the Year by the South Florida Business Journal. As the winner in the small business category, Upadhya is among an elite group of tech chiefs to be recognized for leadership, the ability to deliver business value and the innovative use of information technology.
"I am very happy and proud to be part of an amazing team," said Upadhya, who first joined the executive team at SproutLoud, a leader in Through-Channel Marketing Automation (TCMA), when the company was founded in 2006. "For both myself and my team, the goal is to be highly value driven. It's about creating a collaborative environment where each team member can grow and succeed to the best of their ability, by asking questions and validating the value of what they are delivering. They should not be afraid to fail, but they should learn to fail fast and keep improving.  This keeps us accountable and gives meaning to what we are doing."
Under Upadhya's leadership, the SproutLoud IT team has grown and advanced innovations that play a vital role in the success of the company and its clients. This was showcased in April 2018 when SproutLoud's TCMA platform was recognized by Forrester Research's independent report as a leader in the TCMA industry.
Upadhya places a premium on collaboration with his team, which he fully credits for his recognition as a top tech chief.
As an IT chief, Upadhya was asked what device, hardware, software or service he couldn't live without. "Honestly, I can't think of anything specific," he said. "I just need a way to communicate with my team and that could be with a phone, a laptop, tablet, whatever. Tools and software change so quickly — you really have to focus on the outcome."
ABOUT SPROUTLOUD
SproutLoud, the leading SaaS-based Through-Channel Marketing Automation platform, provides software, service and solutions designed to increase Brand sales through Partners in local markets.   With leading-edge marketing automation technology, SproutLoud simplifies every aspect of local marketing, from start to finish, and delivers comprehensive analytics to show ROI on individual tactics and campaigns, including overall Partner engagement and platform usage. This allows our Brand clients to respond to rapidly changing market conditions in real time with data-driven decisions.