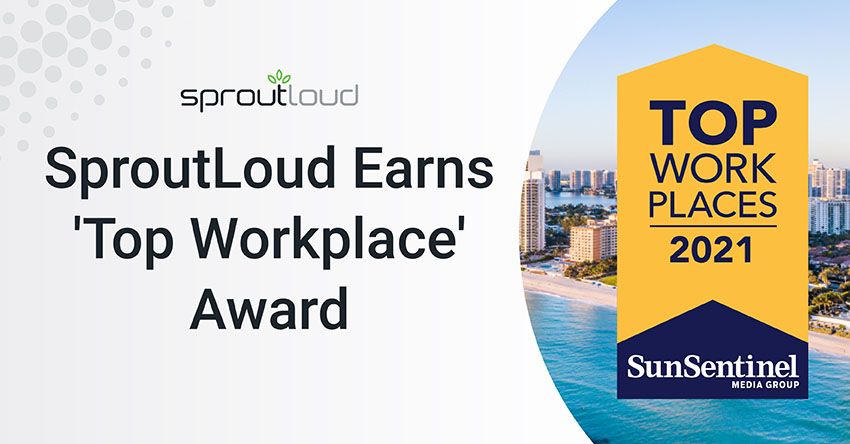 SproutLoud Earns Top Workplace Award
For the 7th time, SproutLoud — an industry leader in distributed marketing software solutions — is being recognized as one of the best companies to work for in South Florida, with the 2021 Top Workplace Award.
"After all that we've been through together in the past year, navigating a global pandemic, this is truly a great honor because this recognition is based on anonymous feedback from our own employees," said Bill Cronic, Vice President for People and Organizational Development at SproutLoud. "Being an industry leader in a highly competitive field begins with recruiting and retaining the best of the best. SproutLoud team members are fully engaged in the company's mission and goals. From entry level positions to leadership roles, our employees embody the high level of innovation, passion, commitment, and hard work that it takes to lead."
The Top Workplaces award is based solely on employee feedback gathered through a third-party survey administered by Energage, LLC, an employee engagement technology company. This anonymous survey uniquely measures 15 culture drivers that are critical to the success of any organization: including alignment, execution, and connection.
"During this very challenging time, Top Workplaces has proven to be a beacon of light for organizations, as well as a sign of resiliency and strong business performance," said Eric Rubino, Energage CEO. "When you give your employees a voice, you come together to navigate challenges and shape your path forward. Top Workplaces draw on real-time insights into what works best for their organization, so they can make informed decisions that have a positive impact on their people and their business."
ABOUT SPROUTLOUD
SproutLoud is a leading SaaS-based Through Channel Marketing Automation platform, designed to increase brand sales through partners in local markets. SproutLoud's advanced marketing automation technology simplifies every aspect of Distributed Marketing and delivers comprehensive analytics on tens of millions of touchpoints for major, category-leading brands. SproutLoud gives brands unparalleled visibility on ROI for individual tactics, campaigns, partner engagement and platform usage. With SproutLoud, brands have the advantage of responding rapidly to changing market conditions in real-time with data-driven decisions.
Media inquiries
Contact SproutLoud Senior Content Marketing Manager Elizabeth Vempala at [email protected]
Sales inquiries
Contact [email protected] or call 954-476-6211 x3