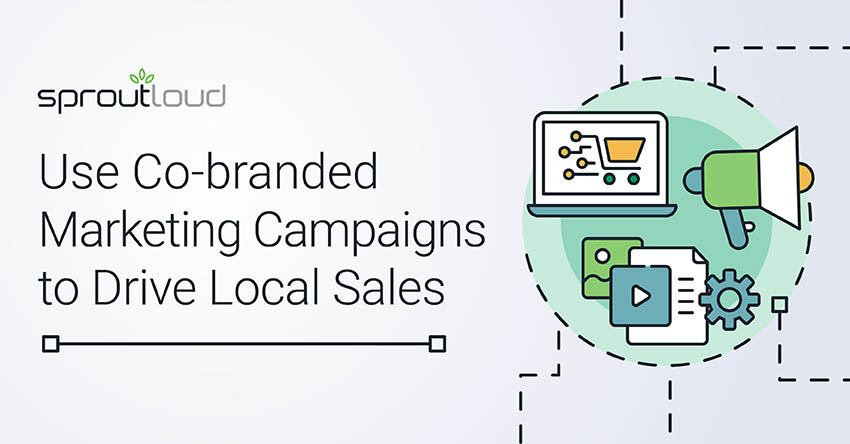 Use Co-branded Marketing Campaigns to Drive Local Sales
Enterprise brands know that brand compliance is crucial to channel marketing success. However, brand compliance may not be so simple for newer or less experienced SMB resellers and employee end users.
Channel partners tend to be busy generating leads, driving traffic and closing sales. Too often, they lack the necessary time and expertise to create and execute brand-compliant local marketing campaigns. That's why providing curated co-branded local marketing assets and ad campaigns makes the process faster, easier and more effective for your entire channel partner network.
Get the Right Message to the Right Audience at the Right Time
Co-branded marketing campaigns offer many benefits to both brands and their SMB resellers. Consistency in look, feel and messaging can help increase brand awareness and brand loyalty in local markets. It also ensures that up-to-date product information and timely messaging is ready to go in advance of seasonal promos and time-sensitive offers.
Being able to rely on brand-approved assets and campaigns also takes the pressure off resellers and enables them to increase speed-to-market, which is important when you need to get the right message to target customers at the right time.
Hyperlocal Marketing Campaigns Drive More Sales
Brands rely on their resellers and employee end users to drive brand awareness and sales in local markets. And resellers rely on local marketing support from the brands they sell. When brands give resellers the ability to customize messaging within templated brand-approved parameters, it's faster and easier for resellers to execute hyperlocal campaigns.
"It's about aligning brand-to-local messaging, while allowing for much needed local and regional customization. This empowers SMBs to focus on what local consumers need to know, while delivering consistent and accurate product information that consumers simply expect," said SproutLoud President Gary Ritkes.
Incentivize Partner Participation
in Co-Branded Marketing Campaigns
Funds Management plays an important role in incentivizing resellers to drive more local sales. When brands make funding, such as Market Development Funds (MDF) and Co-Op Marketing funds, available to their SMB resellers, it's often used as an incentive to participate in brand-approved marketing tactics and campaigns.
MDF is typically awarded in advance and is primarily used in two ways:
Brands offer MDF to new partners who are opening up new markets to resell brand products or services.
Brands offer resellers MDF as additional funds based on predicted behavior and performance in already proven markets.
Co-Op Marketing funds are a pool of funding that brands allow channel partners to tap into, to cover a percentage or portion of local marketing expenses. Co-Op Marketing is typically used to incentivize channel partners to participate in specific brand-preferred marketing tactics and ad campaigns. Co-Op Marketing tends to be better suited for long-term or ongoing local marketing activities.
Invest in What Works
Brands need visibility on local marketing performance. When they provide their local resellers and employee end users with marketing automation software that includes Marketing Analytics, it simplifies the entire process, so they can determine what works and what doesn't. It can also give brands better insight on their channel partners' usage of the software platform. With relevant metrics at your fingertips, brands and their resellers have reliable, accurate information to determine ROI and make data-driven decisions on local marketing spend.