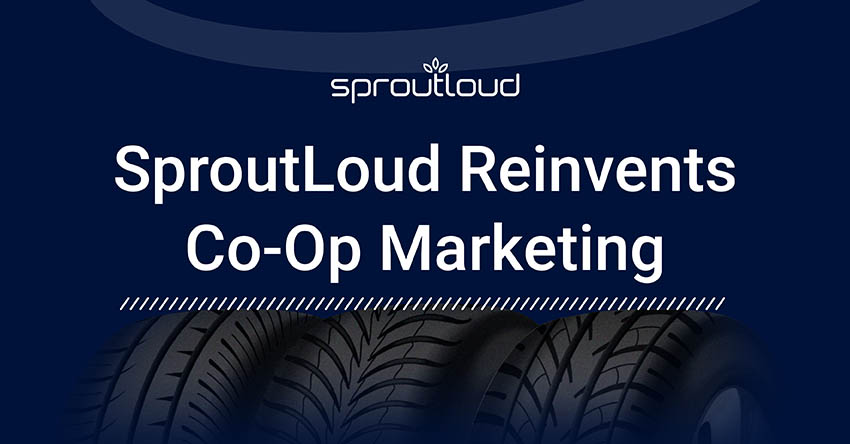 SproutLoud Reinvents Co-Op Marketing
SproutLoud's distributed marketing platform is reinventing Co-Op Marketing for category-leading clients in the tire industry. The platform is delivering much-needed marketing automation, while incentivizing and increasing dealer participation in Co-Op Marketing. SproutLoud is simplifying the entire process for brand teams and their dealer networks. 
With SproutLoud, Enterprise clients in the tire industry are implementing:
A patented Co-Op Marketing change management system, which allows both advanced claims-and-reimbursement processes and instant co-pay options to co-exist within the same platform, while mitigating any risk
A single-sign-on Dealer Portal, which integrates a variety of content and multiple solutions into one unified hub
A Download Center that's as easy to navigate as online shopping
Ship-to-Your-Door co-branded marketing collateral
Digital marketing services, featuring microsites, landing pages, and automated social media marketing content for Facebook, Twitter and Instagram
Giving dealers an easy way to upload claims and use online forms for preapprovals speeds up the entire Co-Op Marketing claims process, making it more efficient.
SproutLoud's single-sign-on Dealer Portal has become an incentive for dealers who sell multiple tire brands. Instead of navigating multiple tabs for e-learning, POS, rebates and Co-Op balances in order to do business with leading tire companies, dealers now have their own one-stop shop with SproutLoud's Dealer Portal, where they can quickly access all that and more with a click.
The SproutLoud team is committed to delivering a cleaner, faster, more efficient experience for brand teams and their dealer networks.
Ready to see what SproutLoud can do for you?
To learn more, complete the form below, and a SproutLoud expert will contact you soon.