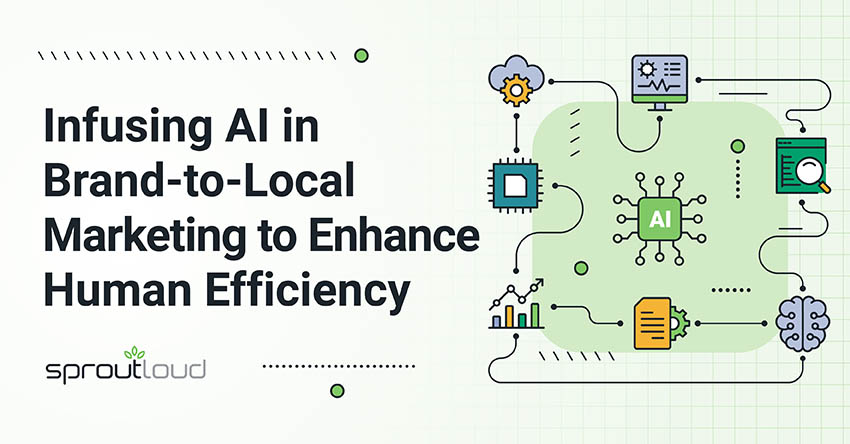 Infusing AI in Brand-to-Local Marketing to Enhance Human Efficiency
Artificial intelligence is a transformative tool that enhances human efficiency. At SproutLoud, we recognize the significance of human involvement in adding value. Our AI approach is grounded in pragmatism, and we prioritize its integration only when it genuinely enriches the user experience.
In this era where AI has become a buzzword, it's imperative to grasp its real value. For SproutLoud, AI serves as an enabler, a tool that augments our solutions, operations, and the overall value we provide to our clients. We meticulously assess its suitability for the task at hand.
Generative AI and User-Centric Solutions
Our commitment at SproutLoud to user-centric solutions drives us to explore various AI applications that genuinely contribute value. By purposefully identifying areas where AI can streamline processes and boost automation, we have identified key initial areas. We are integrating generative AI into our platform to enhance the productivity of our brands and their partner networks, spanning content production, personalization, and meta-data generation.
At SproutLoud, we employ AI to simplify the process for our brand clients, their local partners, and end-users to locate and deploy marketing assets, messaging, content, and campaigns.
Through natural language search, even across different languages, we make content distribution more straightforward and assets easier to find. SproutLoud is making marketing more accessible for brands and their reseller networks.
AI can empower enterprise companies to dynamically optimize brand-to-local marketing campaigns and allocate budgets more effectively, ensuring that every dollar spent generates maximum impact. Predictive and prescriptive analytics offered by AI unveil actionable insights, allowing marketers to make informed decisions and execute the next best action, ultimately elevating ROI forecasting and propelling hyperlocal strategies to unprecedented success.
AI's role at SproutLoud isn't confined to external-facing solutions. We harness AI to test tools and enhance development workflows. We optimize processes and free our team members from repetitive tasks, empowering them to focus on strategic work. Our aim is to enable our teams to deliver value effectively.
Data Privacy, Security and Ethics
Data privacy and security for our enterprise clients and their partner networks is paramount at SproutLoud. We approach AI governance and client data protection with utmost diligence. SproutLoud is compliant with SOC 2 Type II, PCI, HIPAA, GDPR, and CCPA regulations. We continually assess and invest in technologies that align with our commitment to security and privacy.
Collaboration and ethical considerations are central to our AI approach at SproutLoud. We collaborate with partners who share our values and vision for AI, be it hosting applications on Google Cloud or working with industry leaders. We are dedicated to staying at the forefront of AI advancements while upholding ethical standards. We prioritize eliminating bias and ensuring transparency in AI usage.
Community of Practice
Throughout all our teams at SproutLoud, we recognize that AI is a constantly evolving field. That's why we invest in continuous education for our team members and foster a Community of Practice focused on evaluating AI applications and governance. We believe that individuals from various disciplines within our organization are the true drivers of value when it comes to leveraging AI effectively.
AI Empowers Humans
Infusing AI into channel marketing automation software solutions isn't about replacing humans but empowering them to achieve more. It's about delivering value, streamlining workflows, and ensuring privacy and security. At SproutLoud, we are committed to the responsible and strategic use of AI to revolutionize how you engage with target audiences at a hyperlocal level. Join us on this exciting journey towards a smarter and more efficient future in brand-to-local marketing.