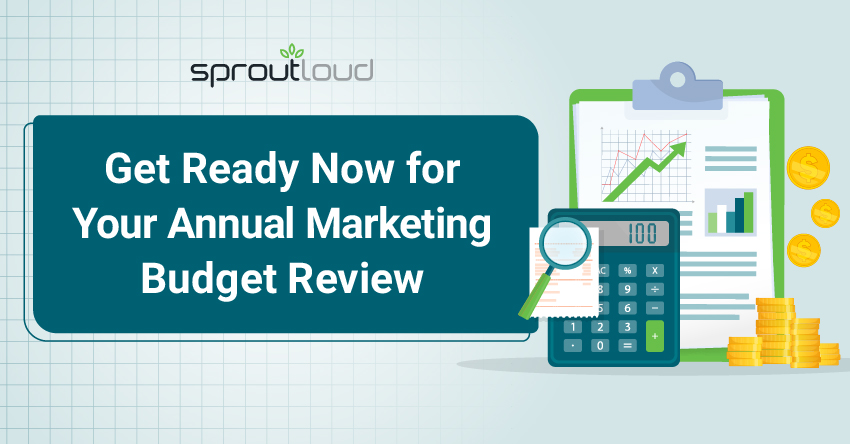 Get Ready Now for Your Annual Marketing Budget Review
Nothing strikes fear like an Annual Marketing Budget Review.
To help ensure your marketing budget survives unscathed, you need to get ready now. Think of the annual review of your marketing budget as an opportunity to tell your story to your target audience. Only this time, the story is the results your company's marketing strategies deliver, and the audience is your executive team. And marketers know: Everything hinges on knowing your audience. Here are a few tips to guide your approach, taking into account what your CFO and CMO want to know.
What You Need to Know To Be Prepared
When you're preparing for annual marketing budget decisions, the goal is to justify the marketing spend with up-to-date results. The closer you can tie results to your actual spend, the better. And that's where the challenge lies: How do you determine what ultimately generates traffic, leads and sales?
Pulling together the right data to make that connection is essential. This can be difficult if your team is only in data-gathering mode twice a year. If that's the case, it's time to think about upgrading your reporting process. More frequent feedback cycles, of one to three months, offer an advantage by providing a clearer link between marketing activity and results. As often as you can, go back and link your team's work to outcomes achieved. This way, your annual marketing budget review preparation is merely a matter of compiling the information you already have. Be ready with answers to key questions:
Where did your impressions and leads come from?
What's driving your marketing spend?
How frequently are you measuring and reporting?
Evaluate Your Martech
The tools and resources you use to deploy and execute marketing — such as specialized martech software or services —  are valuable inasmuch as they help you meet your goals. Some may drive leads directly. Other tools may play a role in building brand awareness and brand equity. The annual marketing budget review is the perfect time to evaluate martech. It's important to understand the software and resources you're using, why you're using them, and what benefits they bring. Not everything is going to deliver a direct, quantifiable return on investment. And in those cases, where benefits are qualitative, put that into context for your executive team and demonstrate the value they provide.
Whatever the case, it's important to set clear expectations. If your annual marketing spend includes upgrades, you should be able to show how they contribute to driving engagement, traffic and leads.
What are the tools and resources essential to marketing?
How will they be used?
What benefits do they offer?
How will those benefits be measured quantitatively or qualitatively?
Justify Spend Increases
If you are proposing increases to your annual marketing budget, be prepared to justify why these changes are needed. This is where having a more frequent feedback cycle really comes in handy. That's because frequent feedback cycles force your team to examine, explain and clarify decisions and outcomes as they happen. Keep in mind, if money is moving from one allocated area to another, it's a red flag. Count on your executive team to question the move. They're likely to ask:  If you don't need the funds where we allocated them, why don't we move those funds to another part of the business?
Meaningful Data Matters
Data tells a story. And the more meaningful, relevant data you have, the better. You need the right kind of data to show what's in your funnel and how things are performing, based on the length of your company's sales cycle. It's not merely about showcasing successful marketing programs or initiatives. And it's not only about Marketing Qualified Leads (MQLs). For your executive team, it's ultimately about sales. Using data to trace the journey from marketing costs, tactics and achievements, to desired outcomes (impressions and leads), to actual sales is an effective way to define the value of your marketing spend. Be ready with answers:
How did marketing perform?
How does the actual performance compare to expectations?
How do the different tactics and tools you use compare to one another, in terms of measurable outcomes?
Remember: Your CFO and your CMO are numerically minded. You want to show up with data to illustrate in a clear and honest way what's working, what's not working, lessons learned and the plan moving forward.
Generally speaking, budgets tend to get trimmed if a team isn't performing or if the company overall isn't performing. Sometimes it's an industry-wide issue. Sometimes it's about how well your company is faring against competitors. Whatever the case, it's important to take responsibility and be accountable for decisions made and results achieved. From the vantage point of executives making tough decisions, those who can illustrate their story with data tend to find themselves in a stronger position than those who can't.