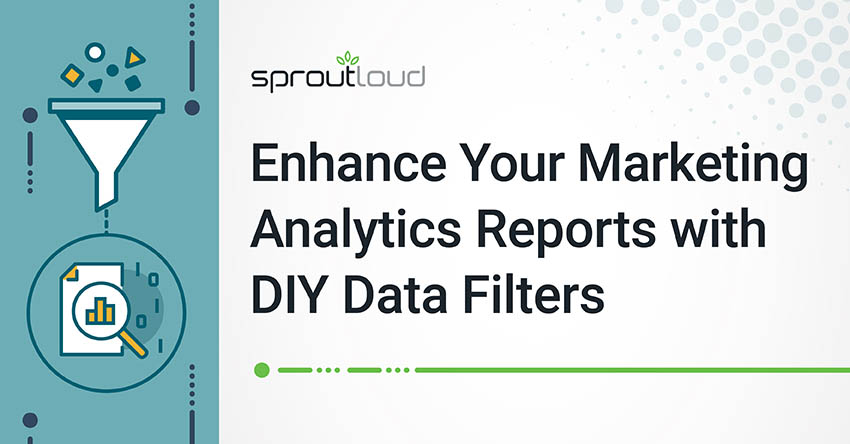 Enhance Your Marketing Analytics Reports with DIY Data Filters
Marketing technology has come a long way in being able to provide customers and brands with marketing analytics reports, an in-depth look at marketing asset performance, and in-market spend. Some are still trying to work through the need to create multiple reports for different analytics, then manually filter them to locate the data they want. But what if a single dashboard could provide the same insight at a more granular level based on custom filters decided by the client?
With SproutLoud Distributed Marketing software, partner marketing attribution is equipped with DIY data filters, which allow brands the opportunity to create their own custom data filters for a better understanding of asset performance and spend within their channel partner network. Here's what this means, for example, when it comes to local marketing for an insurance and financial services company:
Imagine the company offers their network of insurance agents, brokers and financial advisors a variety of direct mail postcards based on a few different objectives:
Retention
Branding
Acquisition
The company is, of course, looking to view marketing analytics to understand how frequently prospective customers are reading (and acting upon) the messaging in those postcards and weighing the ROI on their in-market spend for that direct mail piece.
Typically, insurance agents, brokers and financial advisors would have to view an analytics dashboard for performance and look at a separate dashboard for in-market spend, then filter down based on each objective listed above. With SproutLoud's DIY filters, the agents and advisors can access a custom filter for each objective — Retention, Branding and Acquisition — to quickly understand asset performance and spend without having to manage and toggle between multiple reports and settings. Being able to view this kind of data at a granular level helps brands understand consumer response and demand in local markets. This assists with marketing planning at the short and long term levels.
Custom data filters for marketing analytics reports give brands, their agents, brokers, advisors and channel partner networks access to personalized dynamic reporting based on their marketing needs within their specific industry. Custom filters lend an increased sense of structure to data that was previously located and managed across multiple reports. In addition, the centralization of this data within a single dashboard brings an added layer of ease and efficiency in locating analytics that are crucial to a company's marketing goals, both at the national and local level. Across all industries — including insurance, retail, manufacturing, consumer products and more — SproutLoud's reporting dashboards are breaking ground to a new way of in-depth reporting for marketing assets, tactics and campaigns.