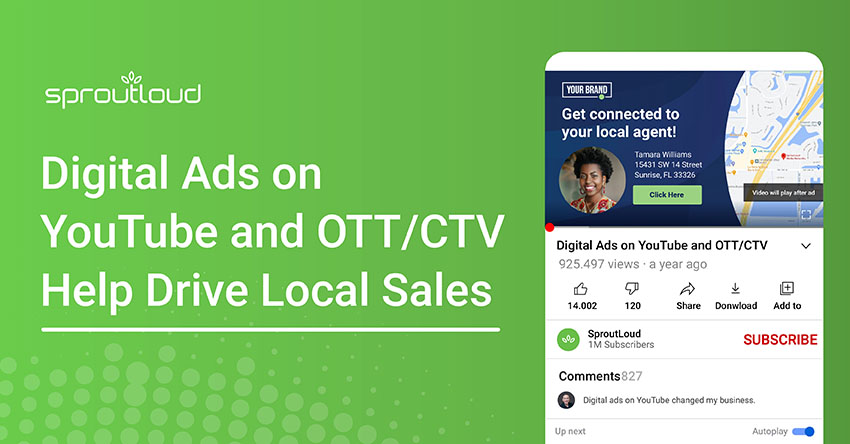 Digital Ads on YouTube and OTT/CTV Help Drive Local Sales
As more and more American households opt to stop paying for cable and satellite TV and watch more videos on YouTube and OTT, savvy brands are taking note and shifting budgets from TV to digital ads. Video and OTT viewership reached an all-time high in 2020, amid COVID restrictions and lockdowns, while cable TV and satellite subscriptions declined. Experts say that trend will continue, with a total of 31.2 million US households expected to cancel cable TV by the end of this year, according to eMarketer.
Video ads on YouTube are in-stream and can appear at any time during a video — when a user initiates video play at the beginning (pre-roll), at points in between (mid-roll), or after (post-roll). These video ads can run on desktop, tablet devices, mobile web and apps. And advertisers can choose to only pay for an ad view when the ad has been watched completely.
Over The Top (OTT) and Connected TV (CTV) is video content streamed through the internet and watched on streaming devices — like Roku, Amazon Fire TV, Apple TV — that connect the internet to your TV. It differs from cable or satellite TV because the content is served through the internet.
Video and OTT ads give advertisers the ability to target audiences on a much more granular level than traditional TV, because it allows advertisers to reach users based on their behavior, demographics and other data points. For example, advertisers can target consumers who may be interested in buying paint by serving ads to people whose interests, habits, and online searches include Home Improvement and DIY Projects.
SproutLoud helps brands scale video and OTT ads by creating customized local video advertising through partners. The video ads can be produced for each participating partner, using brand video assets. Viewers who click on the ads will be sent to dedicated landing pages, when possible, to track performance.
To learn more about targeting video and OTT ads in local markets, through your partner network, call 888-274-3802 (toll free) or click here to contact SproutLoud.