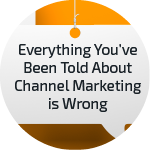 Everything You've Been Told About Channel Marketing is Wrong:
How Modern Technology is Revolutionizing Go-to-Market Strategy
There is no more powerful concept in go-to-market strategy than the Channel. The idea of hundreds or thousands of independent Partners passionately selling your products is a wildly attractive concept. But long-standing challenges have complicated this lucrative way to get your products in the hands of potential customers. In this article, we will explore common misconceptions many Brand marketers have about getting their message into market through the Channel.
Download the eBook