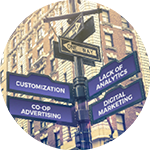 4 Critical Failure Points in Partner Marketing
Local Marketing has never been more complex than it is today. For Brands that use an Indirect Distribution strategy, the competition for customers is so fierce that hitting a failure point can feel like a fatal blow. This is no time for business-as-usual marketing strategies. It's time to take a good hard look at critical failure points and innovative solutions that give Brands and their Partner networks the competitive edge.
In this eBook, Gary Ritkes, President of SproutLoud, offers an indepth look at what it takes for Brands to transform potential failure points into opportunities to increase traffic, leads and sales. Find out what's holding your Partners back, and learn more about innovative solutions designed to set them up for unprecedented success.