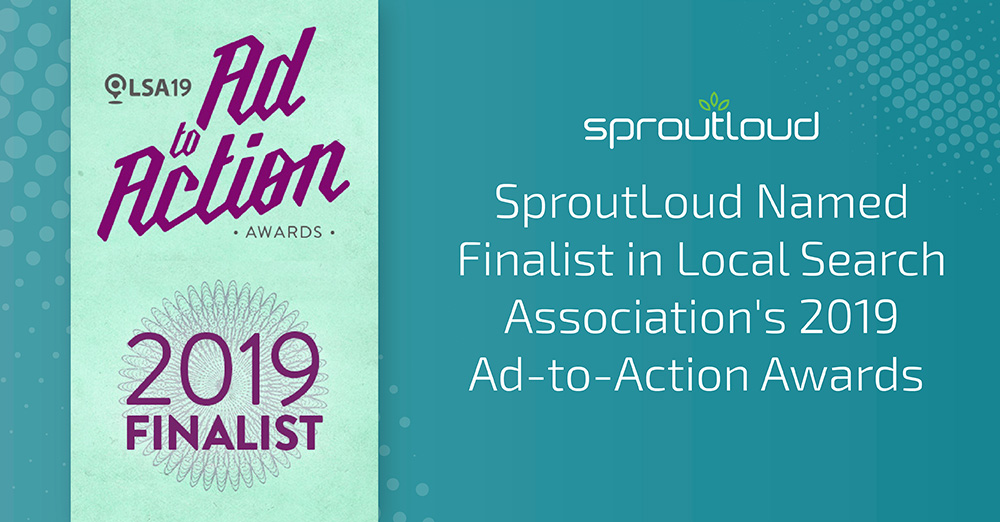 SproutLoud Named Finalist in Local Search Association's 2019 Ad-to-Action Awards
SUNRISE, Fla., January 30, 2019 —The Local Search Association named SproutLoud a finalist in two categories for the 2019 Ad-to-Action Awards, which recognize the top products, campaigns and software driving online-to-offline local consumer actions.
SproutLoud, which won an LSA Ad-to-Action Award last year for its SaaS Distributed Marketing platform, is a finalist this year in the "Best Use of Co-Op Advertising" and the "Verticals and Marketplaces" award categories. Finalists were chosen from more than 80 submissions — showcasing local marketing innovation — from media companies, agencies and technology providers from North America, Europe, India, Australia and Israel.
"We're honored to be among the finalists once again for the Local Search Association awards," said SproutLoud President Gary Ritkes. "SproutLoud is committed to leading innovation in Local Marketing Automation technology. We're focused on leveraging Co-Op Advertising, digital marketing, lead attribution and analytics, as a comprehensive solution that gives Brands and their local partners the competitive advantage in local markets.
The Local Search Association is a non-profit industry association of media companies, agencies and technology providers, with members in about 20 countries who help businesses market to local consumers. Winners of the 2019 LSA Ad-to-Action Awards will be announced February 26, at the LSA19 Conference in Dana Point, Calif.
ABOUT SPROUTLOUD
SproutLoud is a leading SaaS-based Through-Channel Marketing Automation platform, designed to increase Brand sales through partners in local markets. SproutLoud's advanced marketing automation technology simplifies every aspect of local marketing and delivers comprehensive analytics on tens of millions of touchpoints for major, category-leading Brands. SproutLoud gives Brands unparalleled visibility on ROI for individual tactics, campaigns, Partner engagement and platform usage. With SproutLoud, Brands have the advantage of responding rapidly to changing market conditions in real time with data-driven decisions.