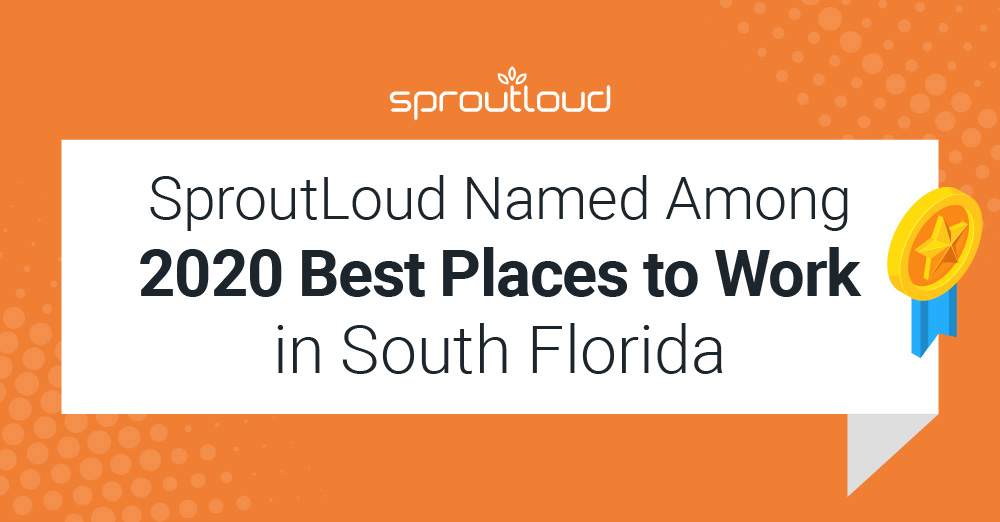 SproutLoud Named Among 2020 Best Places to Work in South Florida
(Sunrise, Fla. – Feb. 29, 2020) For the third consecutive year, SproutLoud, a leading Distributed Marketing software platform, is one of the best places to work in South Florida. This year's recognition by the South Florida Business Journal was preceded by Top Workplace awards in 2019 and 2018 by the Sun Sentinel newspaper in Fort Lauderdale — all of which are based on employee feedback gathered by independent third-party firms.
"The fact that feedback from our employees led to SproutLoud's recognition as one of the best places to work in South Florida is certainly gratifying," said Bill Cronic, Vice President of People and Organizational Development at SproutLoud. "It's the high caliber of our team members — in terms of innovation, expertise, creativity and commitment — that drives SproutLoud to be a leader in the Distributed Marketing software industry."
The Best Places to Work contest "honors superior organizations where voices are heard, cultures are thriving, and employees are engaged," according to Quantum Workplace, the third-party firm that runs this contest and has conducted more than 7 million surveys in 16 years. The winners of this award are determined exclusively based on employee responses to a 30-question survey. Research shows that award-winning organizations that create a healthy workplace culture tend to attract a higher quality of talent, have less turnover and deliver meaningful results.
"At SproutLoud, we take pride in being a workplace where we demonstrate respect and integrity, we support a healthy work/life balance, and we continuously invite employee feedback," said Cronic. "We also don't take ourselves too seriously, and we enjoy having fun with one another as we celebrate milestones and participate in opportunities to give back to the communities where we live and work."
ABOUT SPROUTLOUD
SproutLoud is a leading SaaS-based Through Channel Marketing Automation platform, designed to increase brand sales through partners in local markets. SproutLoud's advanced marketing automation technology simplifies every aspect of Distributed Marketing and delivers comprehensive analytics on tens of millions of touchpoints for major, category-leading brands. SproutLoud gives brands unparalleled visibility on ROI for individual tactics, campaigns, partner engagement and platform usage. With SproutLoud, brands have the advantage of responding rapidly to changing market conditions in real-time with data-driven decisions.