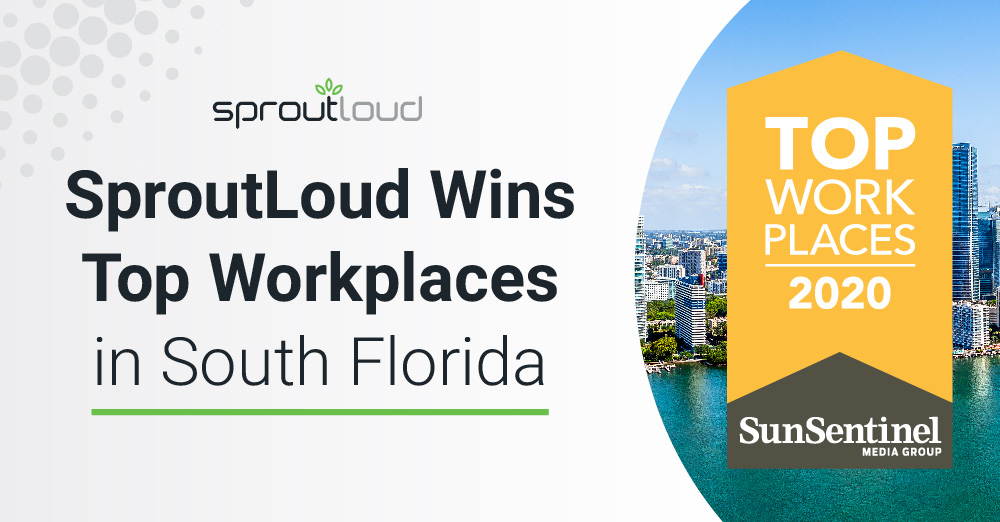 SproutLoud Wins Top Workplaces in South Florida Award
(Sunrise, Fla. – April 22, 2020) For the third consecutive year, SproutLoud, a leading Distributed Marketing software company, received a Top Workplaces in South Florida award from The Sun Sentinel newspaper in Fort Lauderdale.
"This honor really speaks to the level of engagement, passion, commitment and hard work of our entire team," said Bill Cronic, Vice President for People and Organizational Development at SproutLoud. "It means that much more because this recognition is a result of anonymous feedback from our own employees, who've determined based on their own experience that SproutLoud is one of South Florida's top places to work."
The Top Workplaces award is a list based solely on employee feedback gathered through a third-party survey administered by Energage, LLC, an employee engagement technology company. The anonymous survey measures what drives employees to be engaged in their organizations, and key factors included: alignment, execution and connection.
"For more than a decade, the Top Workplaces award has helped organizations stand out among their competitors to attract talent," said Eric Rubino, CEO of Energage. "No longer is recognition simply a much-deserved cause for celebration, but it's fast becoming mission-critical to establish a competitive advantage for recruitment and retention."
ABOUT SPROUTLOUD
SproutLoud is a leading SaaS-based Through Channel Marketing Automation platform, designed to increase brand sales through partners in local markets. SproutLoud's advanced marketing automation technology simplifies every aspect of Distributed Marketing and delivers comprehensive analytics on tens of millions of touchpoints for major, category-leading brands. SproutLoud gives brands unparalleled visibility on ROI for individual tactics, campaigns, partner engagement and platform usage. With SproutLoud, brands have the advantage of responding rapidly to changing market conditions in real-time with data-driven decisions. Learn more at www.sproutloud.com.
Media inquiries:
Contact SproutLoud Senior Content Marketing Manager Elizabeth Vempala at [email protected]
Sales inquiries:
Contact [email protected] or call 954-476-6211 x3