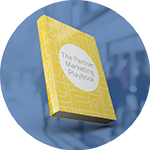 The Partner Marketing Playbook: The Power of Multi-Tactic Campaigns
Co-Op advertising, Brand compliance, managing approvals, assisting Partners — let's face it: Partner Marketing can be very complicated. You need a simple, easy-to-understand playbook that can help you simplify campaign execution, amplify the power of your marketing spend and accelerate local Partner sales. And you need the analytics to constantly evolve your Local Marketing strategy.
In this webinar series, SproutLoud, the leading Channel Marketing Automation platform, will be joined by several of their integrated Marketing Service Providers to talk about the blocking and tackling imperatives of your national-to-local Partner Marketing strategy. In this part we discuss how to help Partners build multi-tactic campaigns that align with the customer journey.