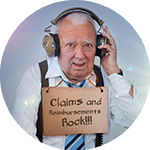 The Co-Op Claims Retirement Party
The Co-Op Claims and Reimbursement process is over 100 years old. Why on earth are you still using such outdated technology?
IT IS TIME TO PUT THIS OLD FELLA OUT TO PASTURE!
Partner Marketing Automation is making Co-Op funds management much simpler, cheaper and easier to manage.
In this webinar we explain what the future of Co-Op funding looks like and discuss:
Why the traditional Claims and Reimbursement process drives Partners crazy and undermines your Co-Op marketing programs
How new innovations in Claims and Reimbursement technology can reduce your costs by up to 50%
Why the next evolution of Co-Op is Instant Funding, where Partners receive Brand funds as soon as they execute a campaign
How centralization of Co-Op Marketing on a Channel Marketing Automation Platform speeds execution and creates more sales