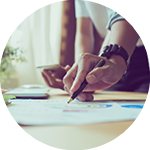 Drive Revenue with an Insight-Driven Marketing Strategy
Today, many insurers and their Agency partners are mired down by too many inefficient business processes. They rely on gut instinct to market appropriately or have complicated workflows that make it hard for insight-hungry agencies to get what they need. These inefficiencies impact sales — which is why it's time to become insights driven.
In this webinar,  guest speaker Ellen Carney, Forrester's Principal Analyst Serving Application Development & Delivery Professionals, and SproutLoud's Chief Executive Officer Jared Shusterman explore the role that data and insights play in driving sales through Agency partners. And as digital transformation is top of mind, find out why both carriers and Agencies have to work together under a common framework to maximize results.
Hosted by: